Dear Reader,
For a change I am not promoting one author this week, but a lot of them. Together with the other writers of the Alexandria Publishing Group I've written stories for our new Alexandria Winter Anthology.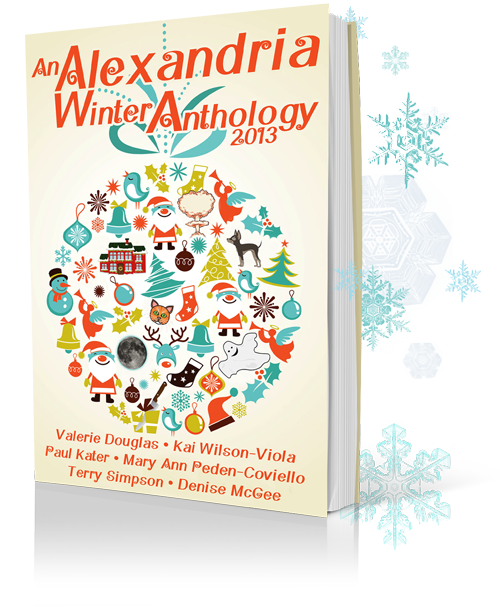 by the Alexandria Publishing Group
Short Ebook description:  The Alexandria Publishing Group is an eclectic group of writers, and we've pooled together our talents again this year to create another exciting Winter Anthology.
By Valerie Douglas – A Home for the Holidays – Family isn't always the one you were born to…
By D Kai Wilson-Viola – Low winter, Blood Moon – Merridian's last night in Edinburgh is meant to be a time to grieve…but when she finds herself running for her life in Holyrood park, a null magic area, all she knows is she's being chased by a big, angry werewolf…
By Denise McGee – Full Moon Christmas – When a reclusive werewolf finds a lost child too close to the full moon, he must fight the change or live with the knowledge that he killed an innocent.
By Mary-Ann Peden-Covellio – Cynophobia – One very small dog and two not-so-angelic girls give Santa Claus a Christmas he'd rather forget.
By Paul Kater – Our Ghostly Winter – A young boy learns that there is more between earth and heaven, and that it can take the shape of a snowman.
By Terry Simpson – The Gifts – 12 Gifts will change a young boy's life forever.
By D Kai Wilson-Viola – Silent Fright – Jess knows that the boys are planning a big surprise and to go along with that, Jess decorates…but the lights attract more than just other survivors and for the first time in months, the walls are overrun with zombies.
You can find the book on Amazon.com.  To read more about this new anthology, please follow this link to our website!
---
And other news from the world of books this week:
---
Paul Kater is an indie writer.
He is the author of the successful
"Hilda the Wicked Witch" series.