Dear Reader,
There is no end to the flow of books that comes from independent writers. This week we're visiting a book by Nichelle Rae called "Only a glow":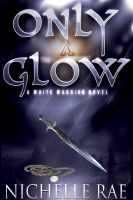 Ebook Short Description: What if the world was ending? What if you only had the power to save it? And what if your power wasn't in your control? Welcome to Azrel's dilemma. Only A Glow is the first book in an epic new series The White Warrior. Join Azrel, her brother Rabryn, and her best friend Ortheldo, as they try to save their world from another age of the Shadow Gods rule, and find out what's wrong with Azrel's magic.
Where to find.
You can find the e-book on Smashwords.com. Don't hold back for the price – it's free!
---
And other news from the world of books this week:
Something of interest for probably anyone: the pitfalls of copyright.
A little piece on a detective story.
A sneak peek from author Krista Tibbs' new literary fiction title, Uncertainty Principles
---
Paul Kater is an indie writer.
He is the author of the successful
"Hilda the Wicked Witch" series.