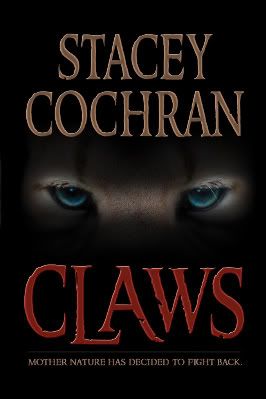 Thanks so much, Rhonda and Heather, for having me on today as a guest blogger at Podioracket.com and thanks so much for all that you do on behalf of authors, readers, and listeners. You guys are amazingly generous, and I hope you know how much we all appreciate you. Thanks so very much!
So, yes, I am coming down the home stretch of my 45-Day Blog Tour to promote my novel CLAWS. It has been a wild ride that has seen the sale of nearly 1,500 copies of CLAWS (and The Colorado Sequence) on Amazon Kindle alone, and so I thought it might be interesting to y'all to hear how I've done it.
It all started with podiobooks. I've been publishing books on Podiobooks.com from the very beginning; I think I was one of the first 5 or 10 authors to sign on with Evo and company. And it has steadily grown the past few years from book to book.
This year, I decided to launch my new novel CLAWS in paperback and on Amazon Kindle a few months before releasing the podiobook version, and I lined up a 45-Day blog tour to help promote it. NYT bestselling authors and local self-published authors alike signed on by hosting me as a guest blogger. Additionally, I rallied the troops in North Carolina where I organize a 2,000+ member writers group, and I gave away free copies for review purposes during the first couple of weeks.
Within two weeks, reviews started showing up on Amazon, and then I began pushing the Kindle version hard. With a list price of a dollar, Kindle readers have embraced CLAWS, which has effectively acted as a marketing leader contributing to the sale of close to a thousand copies of my previous novel (The Colorado Sequence), which was beating the Star Trek movie tie-in book, Dune, and A Brave New World for most of the past few weeks.
The underlying message of all this has been that the kindness and the generosity of fans, readers, and fellow authors is the single-most powerful force in our little corner of the entertainment sandbox. A concerted marketing effort supported by a clear vision, good story, and affordable price helps as well.
I'd just like to take this opportunity to say thanks. Thanks first to you, Rhonda and Heather, for your kindness and generosity. And thanks to the podiobook community, which has offered such gracious support and encouragement the past few years. You've truly changed the world and given authors a place to grow and readers a place to listen and enjoy good books.
So what's on tap for later this summer? I've lined up award-winning voice actor Nancy Stolfo-Corti for the podiobook version of CLAWS. Nancy's voice is like satin, and I'm excited to be working with her in a brand new recording studio in Raleigh, North Carolina, which my good friend (and one of my TV show's directors) Michael Graziano is building. Not sure exactly the date yet that we're going to start rolling out CLAWS at podiobooks, but we should be online by later this summer or early fall.
Rock on, people! And thanks so much for listening!